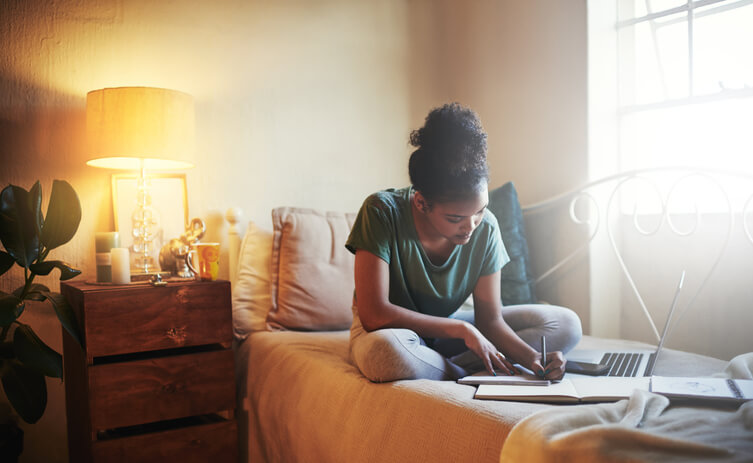 ---
When it comes time for students to procure college housing, they typically weigh two options: living in a dorm or a student apartment. In recent years, more and more students have been forgoing traditional, restrictive college dormitories in favor of student apartments and the unmatched benefits they provide.
If you're a soon-to-be college student weighing the pros and cons of your available housing options, consider some of the following reasons why so many of your peers prefer the apartment lifestyle.
Contact us today to schedule a tour of our student apartments near UCF!
Space & Privacy
Dormitories are often designed to house as many students as possible, making for a communal yet cramped experience. Sure, you'll never be lonely living in such close quarters, but you'll also never get any privacy. As opposed to dormitories, student apartments often provide their residents with roomy, spacious layouts and greater opportunity for seclusion. Our UCF apartments are available in a wide range of floor plans, each of which comes equipped with large bedrooms that feature en suite bathrooms. As students take their first steps toward independent adulthood, they tend to vastly prefer and benefit from having a space that's all their own.
Awesome Amenities
Between attending daily lectures, completing assignments, studying for exams, and participating in extracurricular activities, most college students have a packed schedule. Such a busy lifestyle can quickly lead to burn out, which is the bane of student productivity. Many student apartments seek to combat a busy college lifestyle by providing facilities designed to alleviate stress and cater to a scholar's needs. For example, our student housing near UCF offers a range of student-centric amenities such as meeting rooms and a computer lab as well as facilities for keeping residents happy and healthy, including a two-story fitness center and resort-style pool.
Flexibility & Freedom
Dorm life can be restrictive. Typically, dorms will be supervised by a resident advisor tasked with imposing a strict set of rules. While this seems reasonable to some people, others prefer to enjoy a college experience with fewer restrictions. Student apartments provide an unrestrictive experience, allowing them to come and go as they please and do their own thing. Our UCF student apartments allow residents even more flexibility by offering individual housing contracts! These contracts grant peace of mind to our student residents, as they're only responsible for making monthly installment payments for their room. This way, if a resident or their roommate needs to move out they can do so without negatively impacting the others in the apartment.
Pure Convenience
Student apartments grant their residents something that they'd be hard-pressed to find in a dormitory: convenience. Student apartments strive to provide their tenants with modern appliances that can save them time and money. Here at The Station Alafaya, we offer furnished apartments complete with a gourmet kitchen with built-in appliances, a full-size washer and dryer, spacious walk-in closets, ceiling fans throughout, and high-speed internet. Furthermore, a majority of dormitories don't allow pets. Off-campus student housing communities often allow residents to bring their beloved furry friends with them. Contact our pet friendly apartments near UCF to learn more about our pet policy!