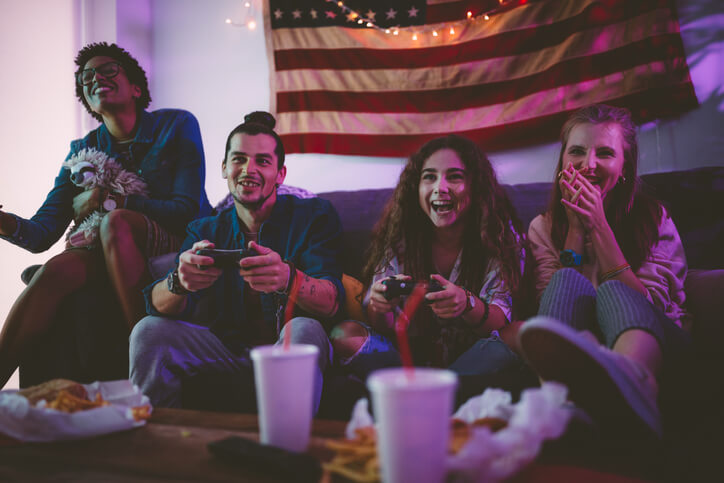 ---
Moving into a new apartment near UCF marks a pivotal moment. It signals the beginning of independence and individuality for many students eager to fully get the college experience. With this monumental step comes another challenge — living with a roommate or multiple roommates. Before moving into an off campus UCF apartment, consider these seven tips to make the experience at The Station Alafaya one to remember.
Respect Personal Space
It's one of the simplest ways to ensure everyone's time living in UCF student housing goes off without a hitch. Don't rifle through other roommates' belongings (bookbags, drawers, etc.) or go in their rooms without asking. This doesn't mean sharing is totally off the table though. For example, if you and one of your roommates share a similar taste in clothes, outfit swaps are likely to happen, but be sure to set up boundaries for sharing. Respecting personal space and property is essential when enjoying all that The Station Alafaya has to offer.
Note: The Station Alafaya offers private locks on each bedroom, meaning that only you and approved maintenance can gain access to the area.
Establish Boundaries
Right after moving into a luxury student apartment in Orlando, it's most important to set boundaries and a schedule between everyone in the cottage for everyday activities like cleaning, setting the air conditioner, appropriate noise levels, meals, allergies, etc. Everyone has little quirks and nuances — be clear about those right away. For example, if you're the type of person who needs alone time to relax in the morning, make sure to let the others living in the cottage know that the private back patio is yours for that time. With a wide variety of modern features in each cottage, both shared and private, carving out space is easier than ever.
Be Mindful Of Guests
With all the amazing first-class amenities offered at The Station Alafaya, it's tempting to invite all your friends over to party by the pool, play volleyball, use the state-of-the-art golf simulator or just relax in the cottage. Having friends at the apartment is what makes it a home and fun for everyone — just be kind and ask the other roommates before having a party or multiple guests over. You don't want to invite the entire block to the cottage if your roommate is studying for a big exam.
Learn New Ideas & Cultures
UCF students are unique and come from all over the world to attend college in Orlando, FL. Living in such a diverse community means students settling down at The Station Alafaya are exposed to different cultures. There could be some barriers at first, like hearing a new language, trying foreign food, or listening to different music, but adapting to these changes means broadening your horizons and learning new things along the way.
Communicate Honestly & Openly
Unfortunately, reading minds is impossible (for now). Letting issues simmer and boil over among roommates is the quickest way to conflict. Communication in a friendly and honest manner can solve this problem. Snapping at other roommates in the cottage does nothing productive, so be honest about problems big or small. For example, before chewing out your roommate for turning on music while studying in the kitchen, talk with them about that habit and see if a compromise is possible.
Keep It Clean
Living in UCF off campus housing means parents aren't around to keep the place clean and tidy. Keep up with dishes, don't leave garbage or belongings lying around in common spaces, and clean up after yourself — it's a sign of respect for the other roommates in the cottage. There's plenty of storage space in each private bedroom, bathroom and even in the common areas at The Station Alafaya, so clutter can be a thing of the past.
Embrace The Experience
Sharing a UCF off campus apartment with roommates can be a little scary at first, but being positive and respectful with roommates is the best way to guarantee the time spent at The Station Alafaya is filled with great memories.
Contact us to schedule a tour or learn more about the best Orlando student apartments.