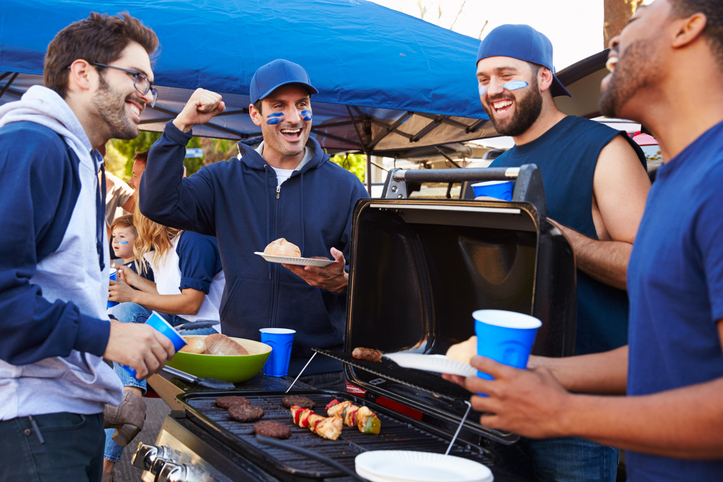 ---
Sports are communal activities; anyone who's been in a stadium and cheered alongside thousands of like-minded fans will vouch as much. Football games in particular are sporting events amplified to maximum excitement, especially when enjoyed with friends, family, and delicious foods. However, students aren't always fortunate enough to make it to their favorite team's games in person. We get it — tickets are expensive, and sometimes your team plays halfway across the country. Don't let that stop you from getting the full sporting experience, though. Bring the communal aspects of sports to your own home with these pointers from The Station Alafaya on hosting the best apartment tailgate party.
Looking for student apartments near UCF fit for your next tailgate party? Schedule a tour of our community!
Compose A Guest List
First, decide who to invite. While "the more, the merrier" can seem good in theory, remember to only invite as many guests as your apartment's square footage allows. If you do plan on having a lot of guests, make sure to choose an apartment with spacious floor plans so you can properly accommodate everyone. Don't forget to account for available seating as well when making the guest list. Once guests are decided upon, send out invites and include information regarding preferred arrival time, date, and whether guests should expect to contribute to the party fare.
Decorate With Team Colors
Time to deck the place out in tailgate decor! If this weekend's game is a big one, decorating the apartment in team colors can boost team spirit among your guests. However, if the favored team isn't local to the area, be sure to research which stores stock team merchandise before going shopping, else you may end up aimlessly wandering around a supply store to no avail. Good with arts and crafts? Even better! Impress guests with some homemade decorations fitting the team's theme. Also, make sure to stock up on supplies like paper plates, cups, and utensils — most party stores will have some with football themes.
Make Food & Drink Arrangements
Ensuring there are delicious food and drinks available for all guests is just as important as making sure the TV is on the right channel. Plan to have enough food and drinks present to last throughout the entire game. Our student apartments feature a variety of lavish amenities, including gourmet grilling areas perfect for preparing delectable grilled tailgate foods. However, If the idea of cooking for a lot of people seems stressful, ask guests to contribute some of their own dishes. Many will be happy for the chance to show off their culinary skills.
Prepare The Viewing Area
In final preparations, check to make sure that all guests have a clear view of the game. An excellent way to do this is by forming a semi-circle in front of the television. This guarantees no guests face obstructions and promotes a communal atmosphere in the viewing area as well. For those who live in multi-room apartments, consider setting up other TV's across the house displaying other games. Some guests may be fantasy football players or fans of other teams, and they'll appreciate the opportunity to keep track of other games happening simultaneously. Additionally, ask guests about their predictions regarding scores and play a game where the guest with the closest predictions wins a prize. Games such as this will keep guests entertained and engaged, especially those who aren't diehard sports fans.