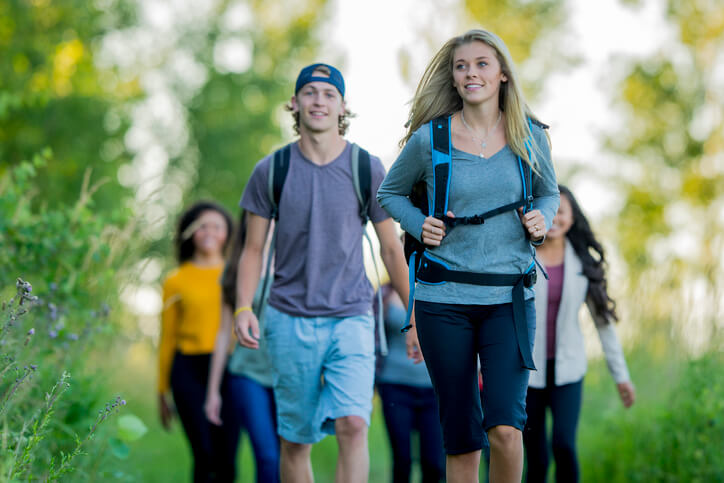 ---
Living in UCF off campus housing comes with a wide range of perks, including exclusive access to community amenities and affordable units designed with spacious interiors. What's more, the location of The Station Alafaya is just minutes from campus as well as numerous destinations for shopping, entertainment, and outdoor activities. When our residents crave an adventure in the great outdoors, they have a wide range of multiple nearby options from which to choose — from discovering rich, expansive Central Florida wildlife and greenspaces to introducing elements of the natural world within their living spaces. Contact us to schedule a property tour and see first-hand why students love living in our off campus housing community.
Enjoy Outdoor Community Amenities
A balanced college lifestyle comprises both work and play. While there are plenty of nearby spaces in which students can spend time in the natural world, there are likewise numerous outdoor community amenities that residents can access just steps from their front door. At our Orlando student housing community, residents can get their fix of the outdoors while taking a dip in our resort-style pool, hanging out at the outdoor lounge, challenging friends to a game of sand volleyball, or enjoying an outdoor barbecue experience in the gourmet grilling area.
Explore The UCF Arboretum
One of the best ways to relieve stress from college is spending time in nature. Located on the main campus and just 2.4 miles away from our UCF apartments, the UCF Arboretum covers 80 acres and contains more than 600 different species of plants and plentiful wildlife. What's more, the Arboretum nature trails are widely considered to be one of the best-kept secrets on campus — whether you decide to take a hike through 14 miles of hiking trails or sit at one of the picnic tables and watch wildlife, the UCF Arboretum is the ideal spot for decompressing in nature.
Hike The Econ River Wilderness Area
The Econ River Wilderness Area is another popular option for spending time in the great outdoors. Located approximately 3 miles from our apartments near UCF, this property features 240 acres and offers visitors the opportunity to hike through habitats such as pine flatwoods, sandhill, and river swamp. Hikers often spot great horned owls, white-tailed deer, golden mice, raccoons, and even bobcats while spending time in this nature-filled landscape. Bring a book along and sit at one of the provided benches to enjoy the sounds of natural Florida.
Visit Lukas Nursery & Butterfly Encounter
Bring elements of the great outdoors to your apartment with indoor plants from Lukas Nursery & Butterfly Encounter. The nursery, located only 4 miles from our property, has everything you need to transform your front porch or back patio into an outdoor oasis, including a couple thousand varieties of plants, garden supplies, and plant pottery. Don't miss the chance to check out the largest variety of native butterflies in the year-round butterfly and bird conservatory — visitors can feed butterflies from their fingertips and spend time among Chinese button quail and exotic finches. For more tips on how to find the great outdoors near your apartment or to tour our UCF housing community, contact The Station Alafaya today!