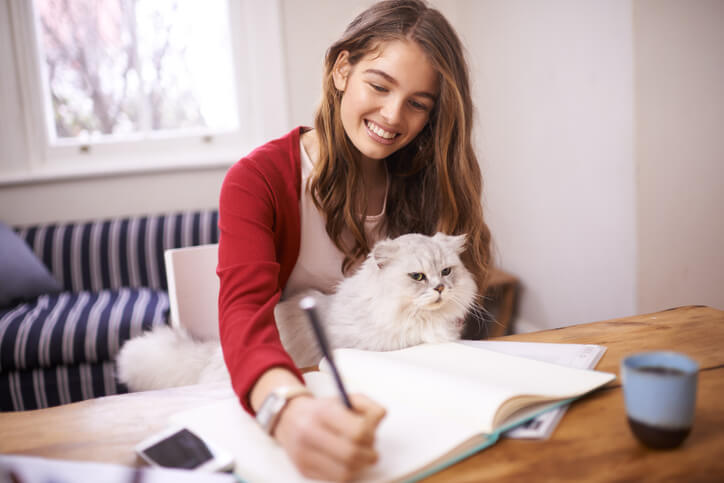 ---
Moving into UCF off campus housing is a momentous occasion. For many students, it marks the start of a journey of independence and individuality, and — most importantly — the opportunity to optimize the college-living experience with a furry friend by their side. Having a pet, whether it's a cat, dog, or another species, can help make an apartment feel like home, provide comfort when you're lonely, and motivate you to stay active, among other benefits. But owning a pet doesn't come without significant responsibilities. Before introducing a pet into apartments near UCF, consider these five tips for renters with pets from The Station Alafaya.
1. Be Aware Of Pet Fees
A huge perk of living in pet-friendly UCF apartments is learning responsibility by caring for and spending time with a furry friend. But it's important to note that while some student living communities may allow pets, renters with pets may have to pay additional fees for an animal in the apartment. The Station Alafaya only requires renters to pay an additional one-time security deposit and cleaning fee, while other residential communities might require additional monthly payments for pets. Many apartment communities also require owners to submit official documentation of their pet's medical history and vaccination certification. But the documentation requirements can actually serve to encourage you to find a new vet nearby your new home! Ask other pet owners in the student housing community where they take their furry friend or do some research to find a nearby veterinary clinic that best meets your pet's needs!
2. Prevent Pet Stains
While living in UCF housing, many renters find that one of the highest pet costs associated with their apartment is stains and other damage to the living space. Preventing stains is difficult enough for renters without pets — adding a pet into the mix calls for double the efforts to avoid permanent staining to rugs, walls, and other surfaces. Pet-friendly properties know that spills and accidents happen — and thankfully, most stains are fixable with cleaning products and appliances specifically made for cleaning up pet messes. To prevent stains from happening, create a bathroom routine. Individuals with cats should clean the litter box once a day to maintain a fresh scent and avoid any accidents due to an over-filled box. Because dogs typically require a regular schedule for going to the bathroom, creating a bathroom routine and sticking to the schedule can help your pup avoid any accidents while inside.
3. Dedicate Quality Time For Pets
Between classes, extracurricular activities, and spending time with friends, college life can seem to leave little availability for other things. But as a pet owner, it's important to spend quality time with your pet each day. If you've ever wondered what they do when you're not home, it's likely that they're sleeping.
Leverage the time you are home by taking your dog out along with you for a walk or a run. You can even bring Fido along to many popular pet-friendly restaurants and cafes around town. What's more, the best pet-friendly housing communities have features specifically designed for your pup's enjoyment, such as expansive green space and safe areas for dogs to play.
Cats that live in apartments by UCF spend the majority of — if not all — their time indoors. To keep your feline friend happy and in-shape, sprinkle some catnip on the floor; encourage them to run around chasing a bungee fishy toy; and lead them from room to room with the mysterious dot from a laser pointer. Even if you're busy studying for exams or writing papers, spending time with your cat is as simple as inviting them to cozy up next to you for moral support and good company.
4. Keep Your Pet Busy While You're Away
Orlando apartments near UCF can range in size — a compact studio apartment, a multi-level townhome, and even a luxury-size cottage with enough space for both you and your pets. Living in a spacious apartment is a great choice for pet owners who want to avoid pestering neighbors with barking or loud noises from neighbors scaring timid cats or pets with anxiety. For anxiety-prone pets, try leaving on the radio or TV while you're away to help them feel more comfortable while alone. And even with adequate space to play, those with separation anxiety need activities to keep them busy when you're away. Keep a variety of vet-approved toys readily available for play and keep extras on hand in case the toy breaks or becomes lost.
5. Set Pet Boundaries With Roommates
If you have roommates, establish boundaries early-on in the rental term to avoid any misunderstandings and to reinforce healthy habits. Make a list of requirements specific to your pet, including their daily amount of food, bathroom schedule, and other needs. Go over the details with your roommate to ensure you're on the same page when it comes to having a pet in the shared space. Keep the number for your pet's veterinarian accessible in case of emergencies. By maintaining a clear and open dialogue, everyone is sure to have an optimal experience while living in apartments by UCF.