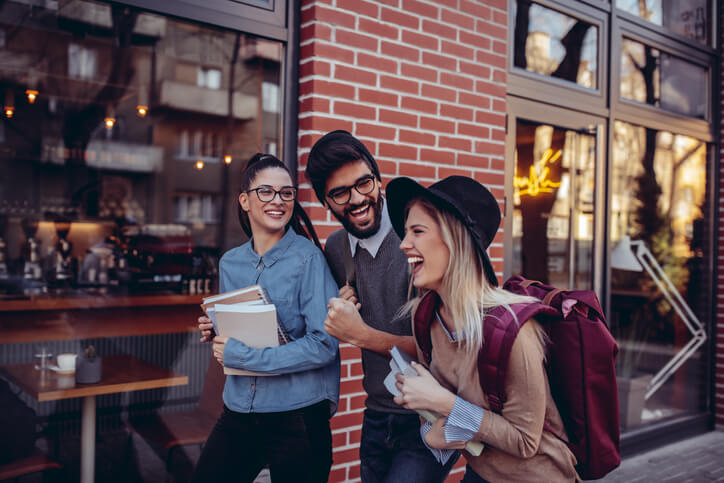 ---
The rate at which people are renting housing is on the rise nationwide, and increasing numbers of college students are joining the movement by choosing to live in luxury apartments. For renters who believe "luxury" and "expensive" are synonymous in student housing, they haven't had the privilege of touring true luxury apartments that offer on-site amenities and features above and beyond typical student housing. In fact, compared to other types of housing, luxury units provide more advantages to tenants, including unexpected benefits, such as financial savings, which may astound you.
Types Of Student Housing
To appreciate the distinct advantages of luxury housing, it's helpful to know about the different types of student housing in Orlando.
On Campus Housing
On campus housing consists of residence halls, dormitories, and other housing managed by the university. The trademark quality of on campus housing is that residents have few personal responsibilities in exchange for obeying a variety of rules. Cooking, hosting guests, or storing a bicycle indoors are the types of activities that are circumscribed or outrightly forbidden in a dormitory setting. To enforce the rules of the residence halls, meanwhile, a university employs resident assistants (RAs), who monitor students' at-home activities scrupulously. Dorm inhabitants are also mandated to maintain a certain level of organization and cleanliness in their rooms.
Off Campus Housing
For students at UCF off campus housing is preferable to living on campus because there are fewer limitations. Although residents have similar levels of independence in off campus housing generally, there are differences between luxury and standard apartments that influence their lives in other ways.
Luxury Apartments
The distinct qualities of luxury student apartments near UCF include posh interior elements as well as resort-style amenities. Walk-in closets, personal study areas, granite countertops, and decorator cabinets are but a few of the classy attributes. Furthermore, the floor plans are designed for communal living among roommates, so the bedrooms are all equal in size yet also fully private, while roommates each have a personal bathroom, as well. But it's the amenities that are perhaps the most eye-catching site. Examples include an outdoor swimming pool that's circumscribed by a tile terrace with seating.
Standard Apartments
A standard apartment is typically unfurnished and contains fewer interior features compared to a luxury housing. For example, the latter has an in-unit washer and dryer, hardwood-style flooring, and stainless steel appliances, whereas a standard unit usually has carpeting, and budget appliances, and no available laundry machines. Still another characteristic of standard apartments is the near or total absence of community amenities. And while standard housing can be found throughout Orlando, luxury units are generally found closer to the UCF campus.
Tangible Benefits Of Luxury Housing
Compared to other types of housing, luxury apartments provide tangible benefits to students. Financially, renting a this type of housing results in certain living costs for students being offset. Amenities for tanning, fitness, or entertainment, for example, provide services for free that students would otherwise have to pay for while living in another type of housing. Meanwhile, the convenience of living near the UCF campus, which means less commuting-related transportation costs, is also guaranteed with luxury apartments. But there are also subtle lifestyle-related advantages. For instance, a personal study area, indoor bike storage, and certain other luxury features make daily tasks easier and thus, in the aggregate, manifest a higher quality-of-life for students.
Find Luxury Student Apartments Near UCF
The Station Alafaya is a luxury housing community with a student-friendly atmosphere in Orlando, FL. In contrast to life in the on-campus residence halls, our residents have the liberty to lead independent lifestyles. And for students of all ages, getting settled into our luxury housing is easy as our apartments are fully furnished with high-end interior features, and we offer roommate matching. The Station furthermore offers a variety of luxury amenities designed to meet students' needs, from recreation to studying. While our location near the UCF campus helps students enjoy a balanced life filled with both on- and off campus activities. Contact us to learn more about The Station Alafaya!